United Planets of Ixion
Details
Guild Master
J4M3S 94
Vice Guild Masters
Training Minister
Shott
Guild General
drunkenbird 1
Website
United Planets of Ixon
The United Planets of Ixion is one of the Ixion guilds on the Ixion Server. It has been through a lot. They are currently contesting for Ixion Server Domination. The Guild master J4M3S 94 created this organization to combat the enemies that swore to kill him. The UPI as its know has many members, and its currently rank #45.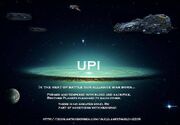 Ad blocker interference detected!
Wikia is a free-to-use site that makes money from advertising. We have a modified experience for viewers using ad blockers

Wikia is not accessible if you've made further modifications. Remove the custom ad blocker rule(s) and the page will load as expected.